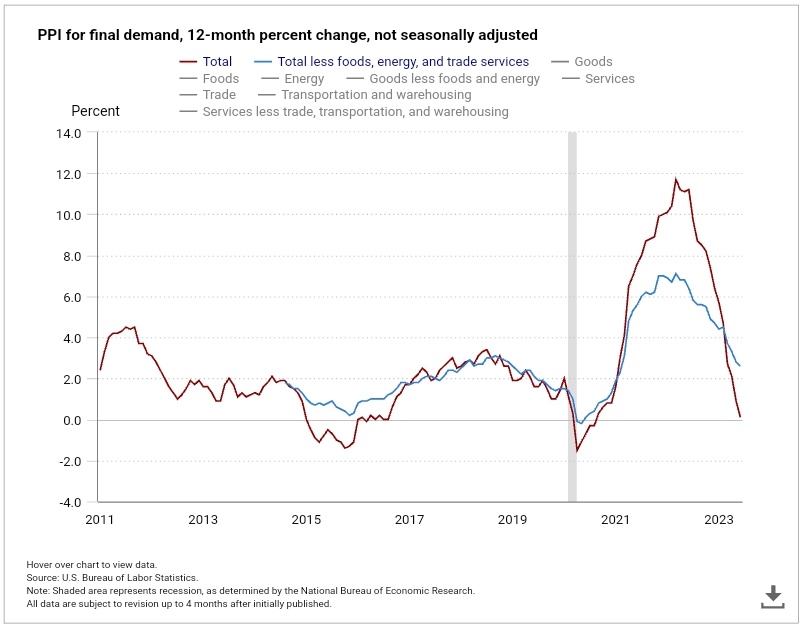 I wish I could say that the clearly impressive trend from peak until now in CPI and PPI is sustainable. However, I am more inclined to say "trough," with more chance of rising inflation numbers going forward rather than the chance of inflation falling further.
Here are some of the top reasons why:
Wage increase in the UK — highest rate since records began in 2001.
Canada — inflation expected until 2025 because of higher demand, upward revision to housing prices, and higher imported goods prices.
Geopolitics (Russia, China, North Korea, Israel) — Jeffrey Sachs says that geopolitical risks are the biggest threat to companies' bottom lines. He also says that China and the US are straining supply chain.
Weather issues (El Niño) — Gulf of Mexico temperatures soared, highest on record for this time of year. Headline in the WP: Flooding, extreme heat waves, and hot oceans will continue — and get worse.
Supply chain strikes — potash shortages due to Port of Vancouver strike.
Grain prices — Will Russia extend the UN brokered deal to allow flow of grain from Ukraine? Food exports are dwindling, esp. to the poorest nations.
Gold and silver — time to watch the ratio between the two precious metals and the relationship between SPY and GLD.
Cocoa and Rice — Cocoa at 14-year highs, rice at highest price in 2-years due to drought in China and a holding back of exports from India.
Crude oil — SRP at lowest levels since 1983, leaving little room for the US to increase supply if prices continue to ascend.
We like to let the charts be our guide. Here are a few relevant ones.
DBA is the ETF for many grain and soft commodities. It's in a bullish phase, underperforming the SPY, while momentum is flat; at this point, not flashing any major concerns as a whole ETF basket. But it's not to be ignored, either.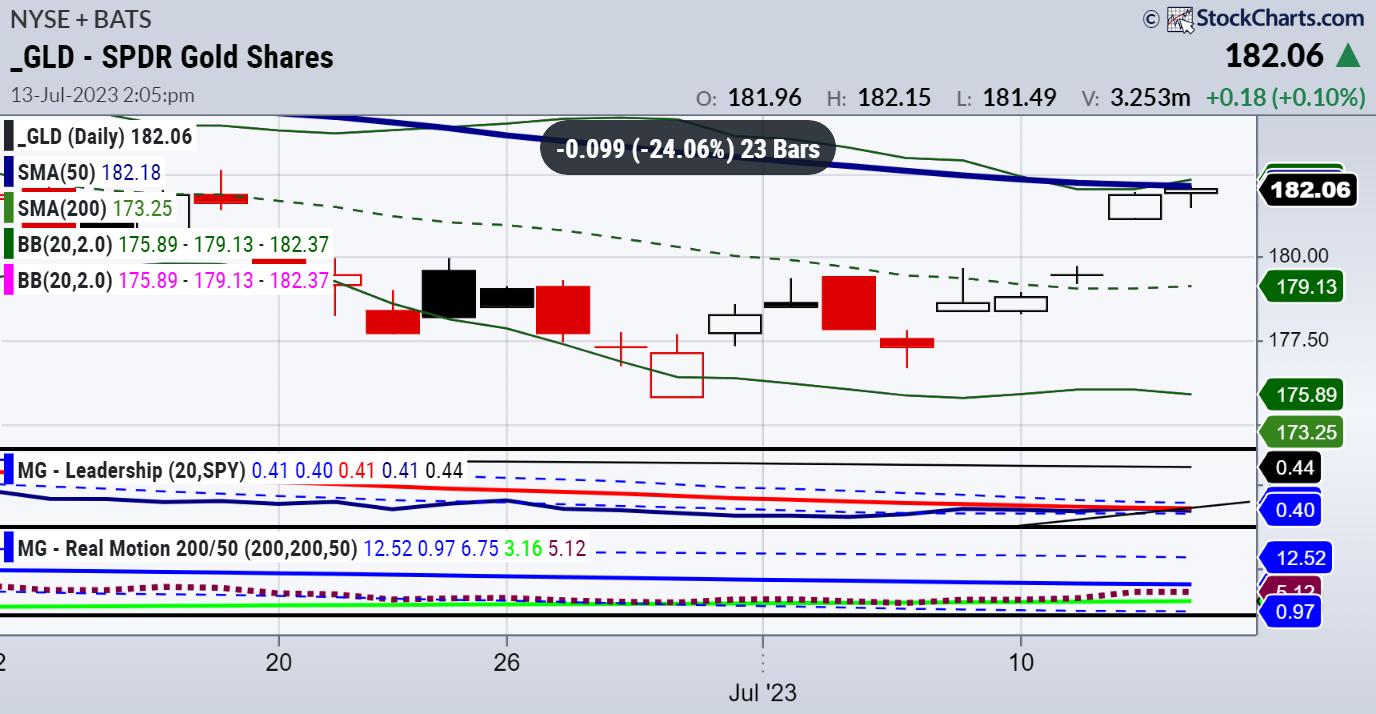 The GLD ETF is testing a potential return to a bullish phase if it clears the 50-DMA. It's on par in performance or leadership with the SPY. Momentum is in a bit of a bearish divergence versus price. Should GLD start to outperform SPY, that will be the first real sign of risk off and a potential spike in inflation.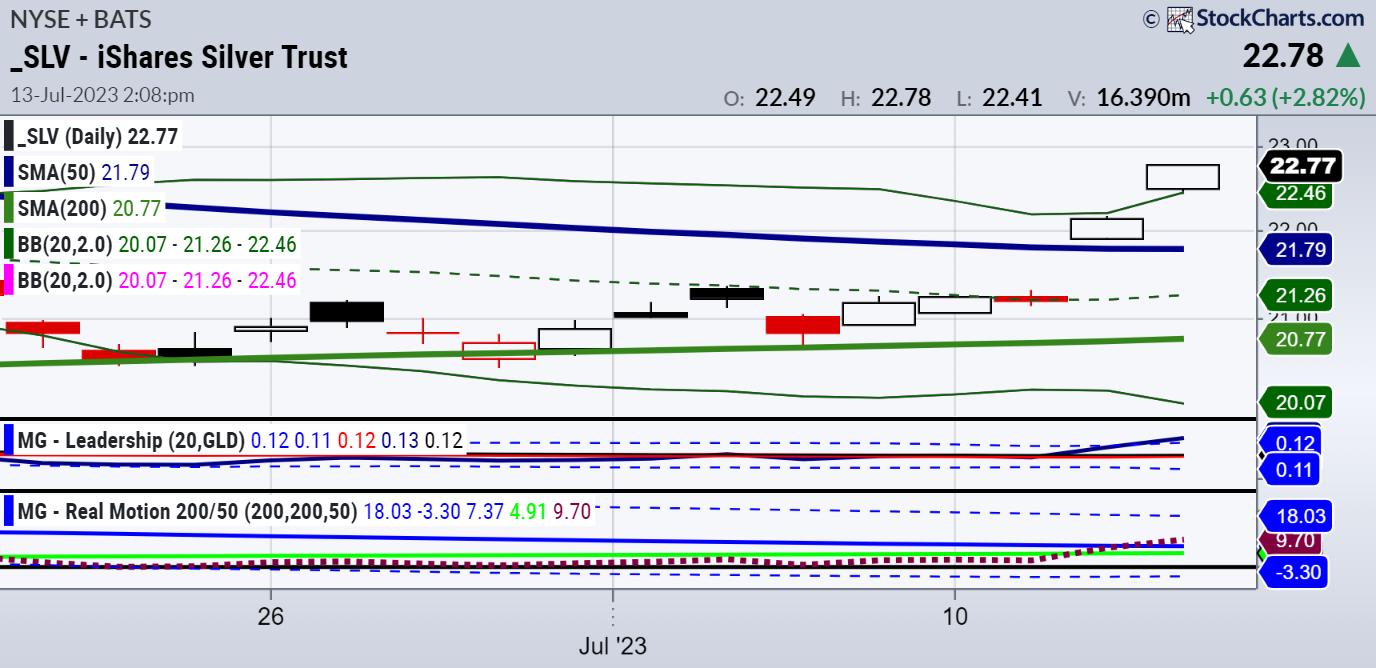 Silver and Silver to Gold Ratio. This is the most interesting and alarming of the 3 charts. Price confirms SLV is back in a bull phase, and the Leadership clearly shows SLV outperforming GLD, which, if sustained, will be a huge warning of inflationary factors ahead. Momentum in our Real Motion indicator is also in a bull phase, with momentum on the rise.
We love a good reset. Next week, the July 6-month calendar range will do just that. We will have a range to look at, which, after this month's moves thus far, should be really interesting to see.
Which instruments will break out or down, and which will stay trading between the top and bottom of the range?
---
For more detailed trading information about our blended models, tools and trader education courses, contact Rob Quinn, our Chief Strategy Consultant, to learn more.

"I grew my money tree and so can you!" – Mish Schneider
Get your copy of Plant Your Money Tree: A Guide to Growing Your Wealth and a special bonus here.
Follow Mish on Twitter @marketminute for stock picks and more. Follow Mish on Instagram (mishschneider) for daily morning videos. To see updated media clips, click here.
---
Nicole Petallides and Mish discuss crypto, basic materials, inflation and gold in this appearance on TD Ameritrade.
Mish and Ash Bennington cover a lot in this video from Real Vision, discussing everything from the Fed, to inflation, to the incredible move in stocks and what is next.
Mish talks day-trading tactics, currency pairs, gold, oil, and sugar futures in this video from CMC Markets.
Mish and Angie Miles talk tech, small caps and one new stock in this appearance on Business First AM.
Mish examines the old adage "Don't Fight the Fed" in this interview on Business First AM.
Mish and Charles Payne talk the Fed, CPI, Inflation, yields, bonds and sectors she likes on Fox Business' Making Money with Charles Payne.
Mish, Brad Smith and Diane King Hall discuss and project on topics like earnings, inflation, yield curve and market direction in this appearance on Yahoo Finance.
Mish reviews her first-quarter trades in this appearance on Business First AM.
Mish talks women in the trading space and covers a wide variety of ideas in this interview for FreeFX.
Mish runs through bonds, modern family, commodities ahead of PCE on Benzinga.
---
Coming Up:
July 18-22: Mish on vacation
---
ETF Summary
S&P 500 (SPY): 450 pivotal.
Russell 2000 (IWM): Through the 23-month MA-can it hold?
Dow (DIA): 34,000 pivotal.
Nasdaq (QQQ): Do I hear 404?
Regional Banks (KRE): 42.00-44.00 range.
Semiconductors (SMH): Wonder Woman is back!
Transportation (IYT): After an unchanged close yesterday, now an inside day.
Biotechnology (IBB): 121-130 range.
Retail (XRT): Closed red for the second day in a row; barometer?
Mish Schneider
MarketGauge.com
Director of Trading Research and Education