On August 1st, as many cheered the rise in GDP (partly because consumer spending is 70% of the GDP), another agency did not cheer at all.
With Government Debt to the GDP ratio super high, coupled with high interest rates, Fitch was not having it. They see this as a huge stress on the economy.
In 2011, the last time the US had a downgrade, the Fed promised to keep rates low. That turned out to create a huge buy opportunity. Now though, the Fed makes no such promise. They have inflation, a strong labor market, and now a debt downgrade on their hands. This leaves very little wiggle room for the Fed to maneuver.
In 2011, the Fed was not worried about inflation. Now they are. 
But what do Granny and Gramps of our Economic Modern Family have to say about that?
This is a great time to look at the monthly charts. Remember, our thesis was that over the 23-month moving average (blue line), the index or sector signals expansion on a 2-year business cycle.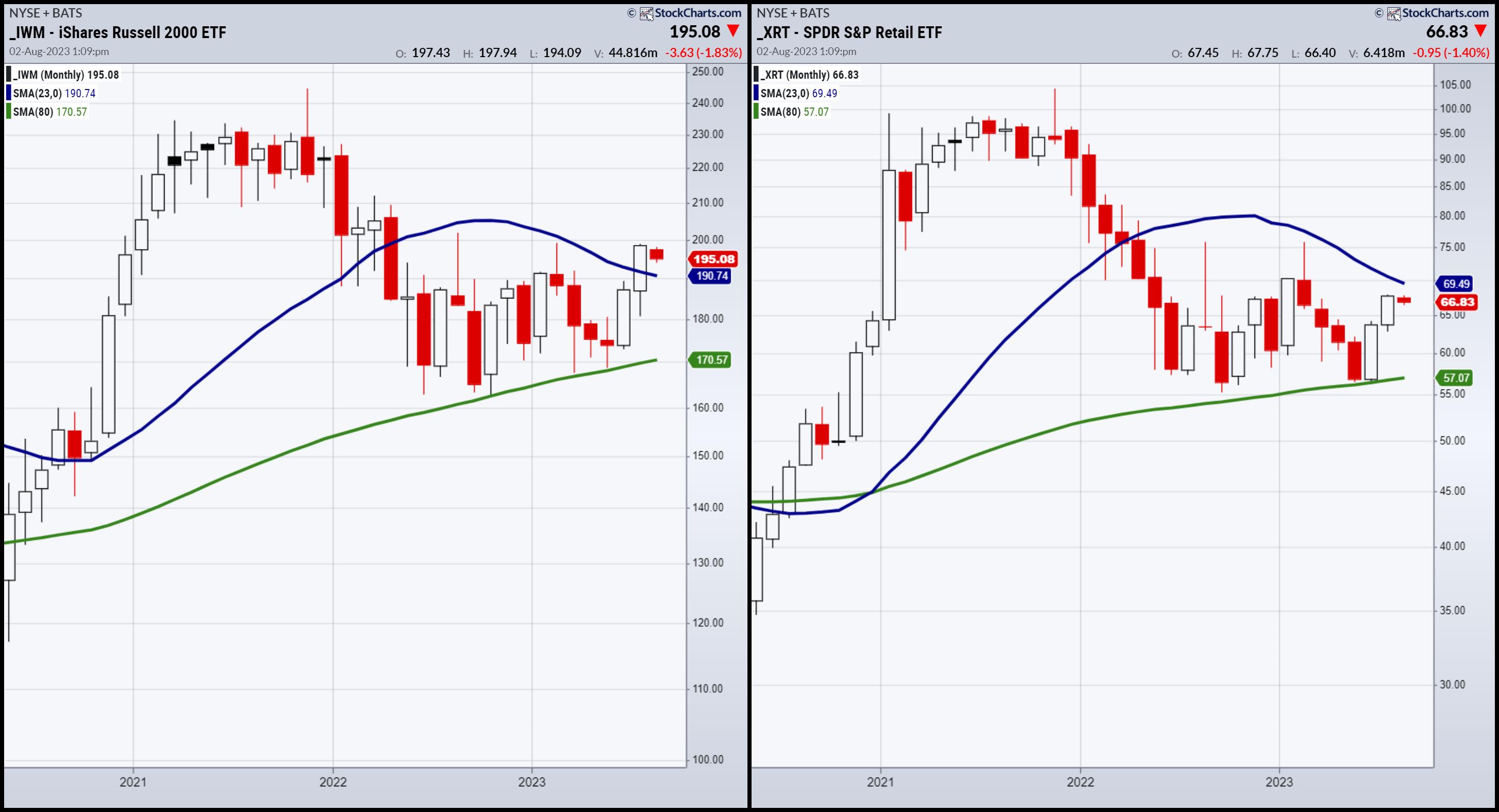 All the indices accomplished that, including IWM, the Russell 2000. Yes, Gramps was last of the four; however, he's gramps.
Now, with the news of the downgrade, IWM is taking a breather. But not too bad at this point. With a lot of government spending supporting manufacturing and industry in the US, Gramps WANTS to expand. Of course, that is how the government created so much debt in the first place…
But can it last? August has just begun, so we do not really know at this point.
Granny Retail on the other hand, has yet to clear its 23-month MA and convince us that the retail consumer is hanging around for a better second half of the year. That makes for some interesting diversions.
191 is the level for IWM to hold. On a shorter timeframe, 193 is the July 6-month calendar range high. Right now, both levels are intact.
67.40 in XRT is the July 6-month calendar range high; the price sits below that. 69.50 is the 23-month MA; the price sits below that. Should XRT break 66.00, that is a sign of weakness.
Bottom line: Granny has the purchasing power and the greater influence on the GDP. We like where IWM is holding for sure. Without his bride though, today's downgrade is a harbinger.
---
For more detailed trading information about our blended models, tools and trader education courses, contact Rob Quinn, our Chief Strategy Consultant, to learn more.
If you find it difficult to execute the MarketGauge strategies or would like to explore how we can do it for you, please email Ben Scheibe at Benny@MGAMLLC.com.

"I grew my money tree and so can you!" – Mish Schneider
Get your copy of Plant Your Money Tree: A Guide to Growing Your Wealth and a special bonus here.
Follow Mish on Twitter @marketminute for stock picks and more. Follow Mish on Instagram (mishschneider) for daily morning videos. To see updated media clips, click here.
---
Mish runs the rule over the S&P 500 and key commodities in this video from CMC Markets.
Mish gives reasons why gold could return as a safe haven on Business First AM.
Mish talks about opportunities related to EVs in this video from Business First AM.
Mish and Jared go over oil and what might happen with small caps and regional banks in this appearance on Yahoo! Finance.
This has been a very heavy week with the Fed meeting, tons of earnings, and, not to mention, all of the geopolitical issues around the world. Something that Mish has been thinking a lot about is store houses for raw materials, the places that actually hold every kind of raw material from mining, commodity trading houses etc. Mish dives into the stocks she's looking at on the Wednesday, July 26 edition of StockCharts TV's Your Daily Five.
Mish looks at a selection of popular instruments and outlines their possible direction of travel in this video from CMC Markets.
In this episode of The Breakfast Show from Money FM 89.3 Singapore, Mish makes sense of the recent resilience and worrisome trends in the market, delving on the various factors driving consumer confidence in the face of rising rates and inflation, the impact of A.I.-driven companies, and the ongoing geopolitical risks on commodities and equities.
Mish talks PCE inflation picks in this video from Business First AM.
---
Coming Up:
August 3: TD Ameritrade Macro Show
August 10:The Final Bar on StockCharts TV
October 29-31: The Money Show
---
ETF Summary
S&P 500 (SPY): Failing the July calendar range high; follow thru Thursday to downside should be followed.
Russell 2000 (IWM): 191 is the 23-month holy grail.
Dow (DIA): 35,000 support.
Nasdaq (QQQ): Last 2 weeks of pricing wiped out; now we watch 365-380 range.
Regional banks (KRE): Back over 48 looks okay; under 44, not so much.
Semiconductors (SMH): 161 now more in the rearview, 150 in focus.
Transportation (IYT): Still very strong as long as it holds its July 6-month calendar range high at 259.30.
Biotechnology (IBB): Compression between 123-130.
Retail (XRT): 66-67.40 short-term range.
Mish Schneider
MarketGauge.com
Director of Trading Research and Education