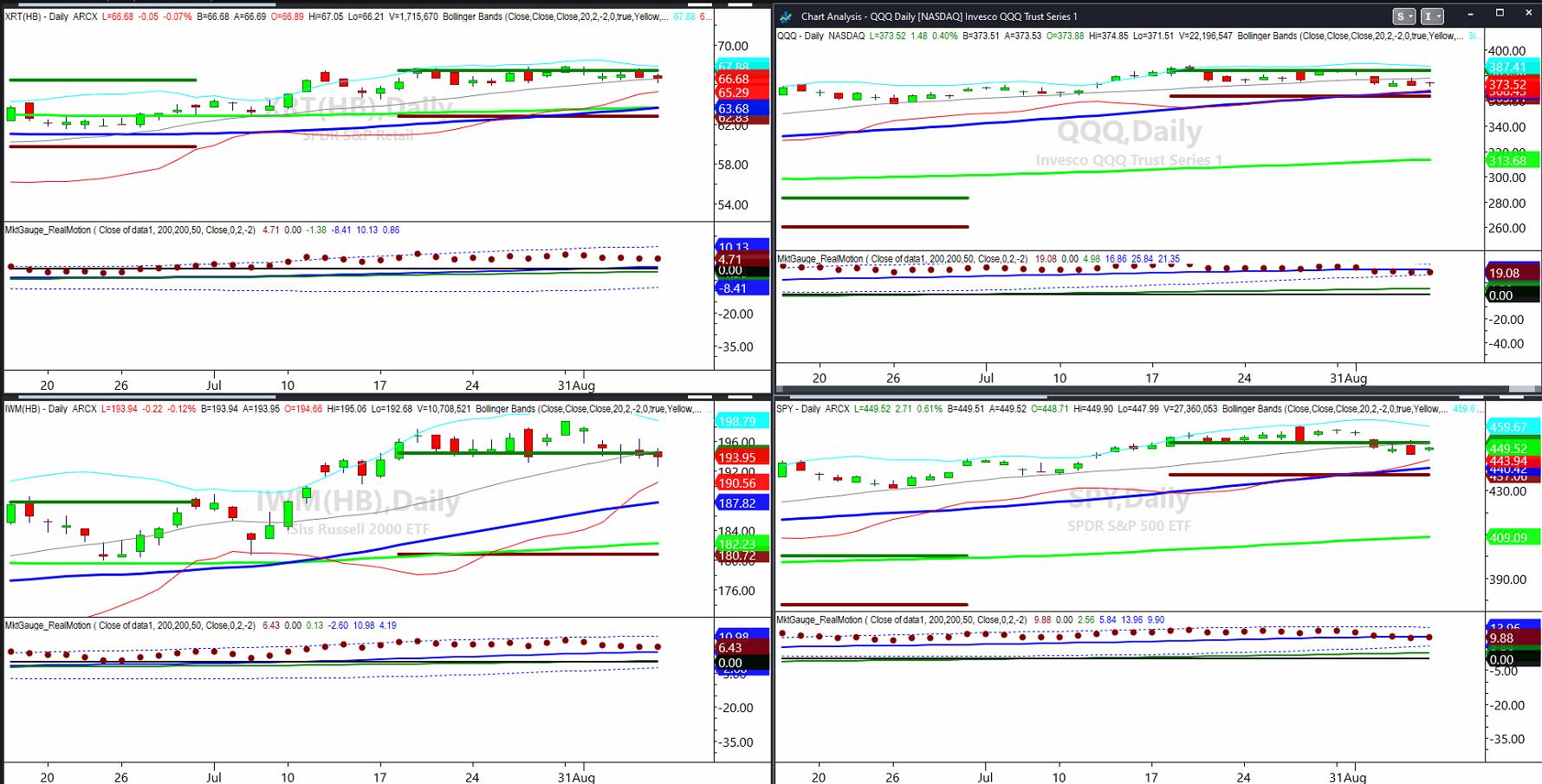 It's summertime, and the living should be easy. Folks do tend to go away in August as the market tends to chop around on lower volume. This August proves to be no exception thus far.
What is interesting though, is looking at the reset of the July 6-month calendar ranges in 3 of the indices and one key sector. To remind you, the range is good until the next time it resets in January 2024. With nearly 3 weeks since the ranges were made, we can potentially conclude that the second half of the year will be less about growth stocks and more about small-caps.
The NASDAQ 100 (QQQ) has yet to clear the July 6-month calendar range high at 383.50. Plus, the Real Motion indicator has a bearish momentum diversion, meaning the red dots sit below the 50-DMA while the price remains above its 50-DMA. Should QQQs remain below the July range high, then the technical trade now is to watch for it to hold 368-369 or the 50-DMA. Furthermore, should that break, then the July 6-month calendar range low will be important at 363.40.
Of course, as it is August, it is also possible not much happens until September and QQQs sit in a range between 383 and 362.
As for SPY, although it is in a bit of a better chart position than the QQQs, it too sits below the July range high with momentum on its 50-DMA. Again, not a wow, but not a dealbreaker at this point.
The Russell 2000 and Retail Sector seem like the apparent places to watch for next moves. The Russell 2000 (IWM) literally dances on the July 6-month calendar range highs. 194.35 (closing basis) is key to hold, and, if it does, with stronger momentum than SPY or QQQ, the rotation into small caps and value could be the thing for the next 6 months.
However, we may still have to live through some August doldrums. Retail (XRT) could just be the deciding vote. The price is currently below 67.40 or the July high range high. Momentum, though, is better provided XRT does not fail to break below 66.00. Right now, looking at the 4 charts, we can comfortably say that risk remains on, and small caps could lead IF Retail holds. If so, then SPY and QQQs will hold as well, but the excitement could switch.
Remember, the first half was all about AI and growth. We are watching to see if the second half becomes all about value. And, in the meantime, we're taking it relatively easy, as August heat can surely be the dog days of summer.
---
For more detailed trading information about our blended models, tools and trader education courses, contact Rob Quinn, our Chief Strategy Consultant, to learn more.
If you find it difficult to execute the MarketGauge strategies or would like to explore how we can do it for you, please email Ben Scheibe at Benny@MGAMLLC.com.

"I grew my money tree and so can you!" – Mish Schneider
Get your copy of Plant Your Money Tree: A Guide to Growing Your Wealth and a special bonus here.
Follow Mish on Twitter @marketminute for stock picks and more. Follow Mish on Instagram (mishschneider) for daily morning videos. To see updated media clips, click here.
---
In this appearance on Fox Business' Making Money with Charles Payne, Mish and Charles cover Fed, oil and gas, and some picks for a manufacturing boom.
Mish and Nicole Petallides discuss market in correction, oil concerns, and some new picks on TD Ameritrade.
Mish runs the rule over the S&P 500 and key commodities in this video from CMC Markets.
Mish gives reasons why gold could return as a safe haven on Business First AM.
Mish talks about opportunities related to EVs in this video from Business First AM.
Mish and Jared go over oil and what might happen with small caps and regional banks in this appearance on Yahoo! Finance.
This has been a very heavy week with the Fed meeting, tons of earnings, and, not to mention, all of the geopolitical issues around the world. Something that Mish has been thinking a lot about is store houses for raw materials, the places that actually hold every kind of raw material from mining, commodity trading houses etc. Mish dives into the stocks she's looking at on the Wednesday, July 26 edition of StockCharts TV's Your Daily Five.
Mish looks at a selection of popular instruments and outlines their possible direction of travel in this video from CMC Markets.
In this episode of The Breakfast Show from Money FM 89.3 Singapore, Mish makes sense of the recent resilience and worrisome trends in the market, delving on the various factors driving consumer confidence in the face of rising rates and inflation, the impact of A.I.-driven companies, and the ongoing geopolitical risks on commodities and equities.
Mish talks PCE inflation picks in this video from Business First AM.
---
Coming Up:
August 8: Wolf Financial Spaces, 3pm ET
August 9: Mario Nawfal Financial Spaces, 8am ET
August 10:The Final Bar on StockCharts TV
October 29-31: The Money Show
---
ETF Summary
S&P 500 (SPY): 450 pivotal, 440 support at the 50-DMA.
Russell 2000 (IWM): 191 is the 23-month holy grail, 194 July 6-month range high.
Dow (DIA): 35,000 support.
Nasdaq (QQQ): 362-382 range.
Regional banks (KRE): 50 in focus if holds 48.
Semiconductors (SMH): 161 resistance, 150 in focus.
Transportation (IYT): July 6-month calendar range high at 259.30 — closed below it — caution.
Biotechnology (IBB): Compression between 123-130.
Retail (XRT): 66-67.40 short-term range.
Mish Schneider
MarketGauge.com
Director of Trading Research and Education