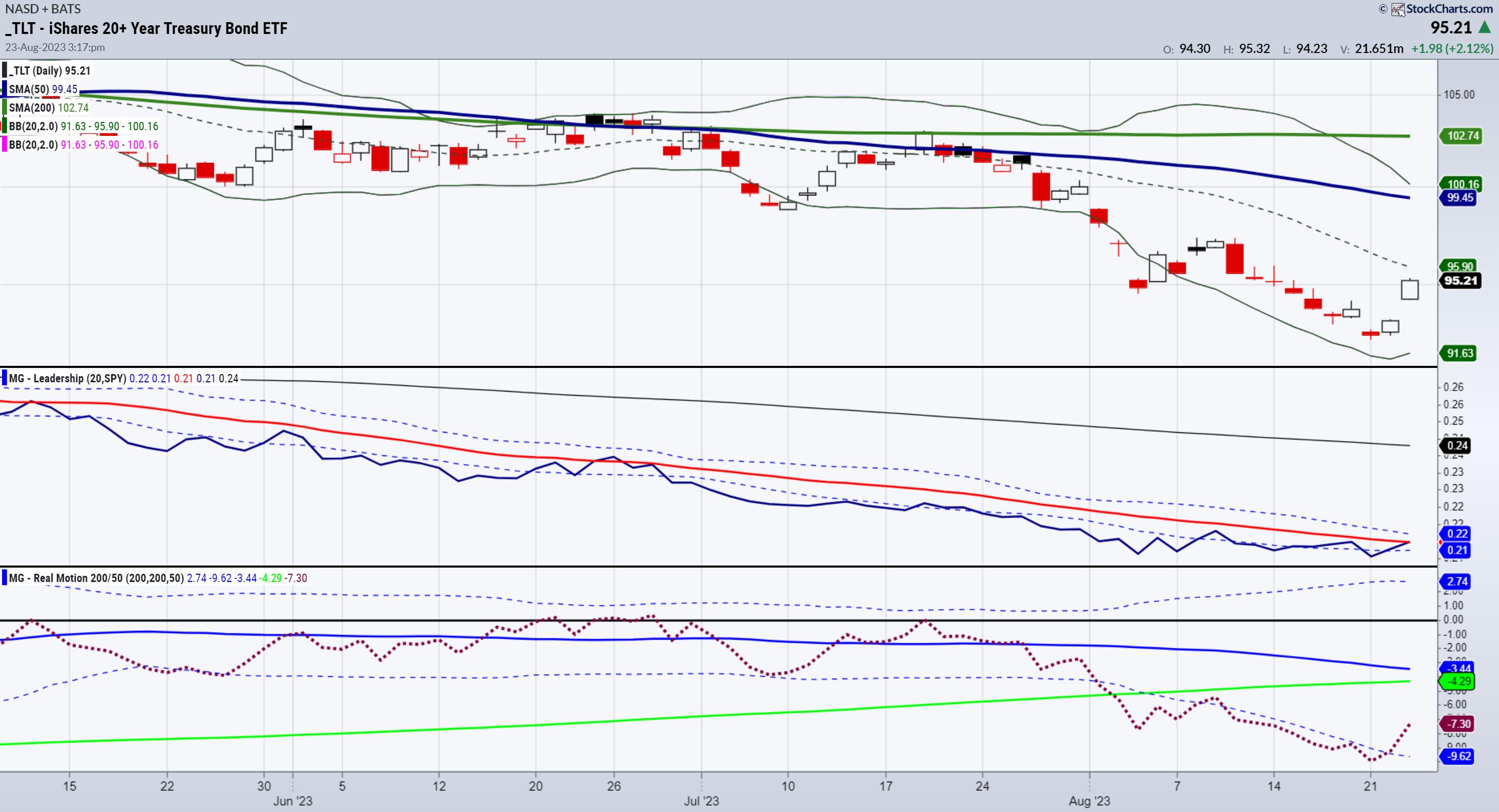 Over the course of our writing the Daily, it has served as a reliable and remarkable guide for investors, traders, and investments.
For example, looking most recently on August 22nd, we wrote about watching the dollar decline and TLTs rising. That is happening. Earlier this week, we wrote about Biotechnology and the opportunity presenting itself there. IBB cleared the key price point. Over the weekend, you got to watch the Real Vision interview where we discuss buying silver and gold (up 6-7% already). The week before, we covered China and Alibaba and the opportunity emerging there; today, BIDU led the China market higher. Silver — another Daily written that featured the metals back on August 8 — had a great couple of days.
The point is that the Daily is designed to give you our insights into the market along with actionable trading ideas. If you are new to the Daily, you can sign up for our free content easily.
For today, another word about BRICS and the recent headline "BRICS nations agree to expand developing world bloc". Why is this important?
At a time when the world is experiencing de-globalization, an alliance of countries, including Brazil, Russia, China, South Africa and possibly India, is a potential threat to the West. Currently, more than 40 countries have expressed interest in BRICS, with 22 already formally asking to join. The dollar is below the July 6-month calendar range high now, while gold returned over the July 6-month CR low. Silver improved its phase. Yields rallied through the TLTs and are threatening to outperform the SPY, a risk-off scenario.
What's next?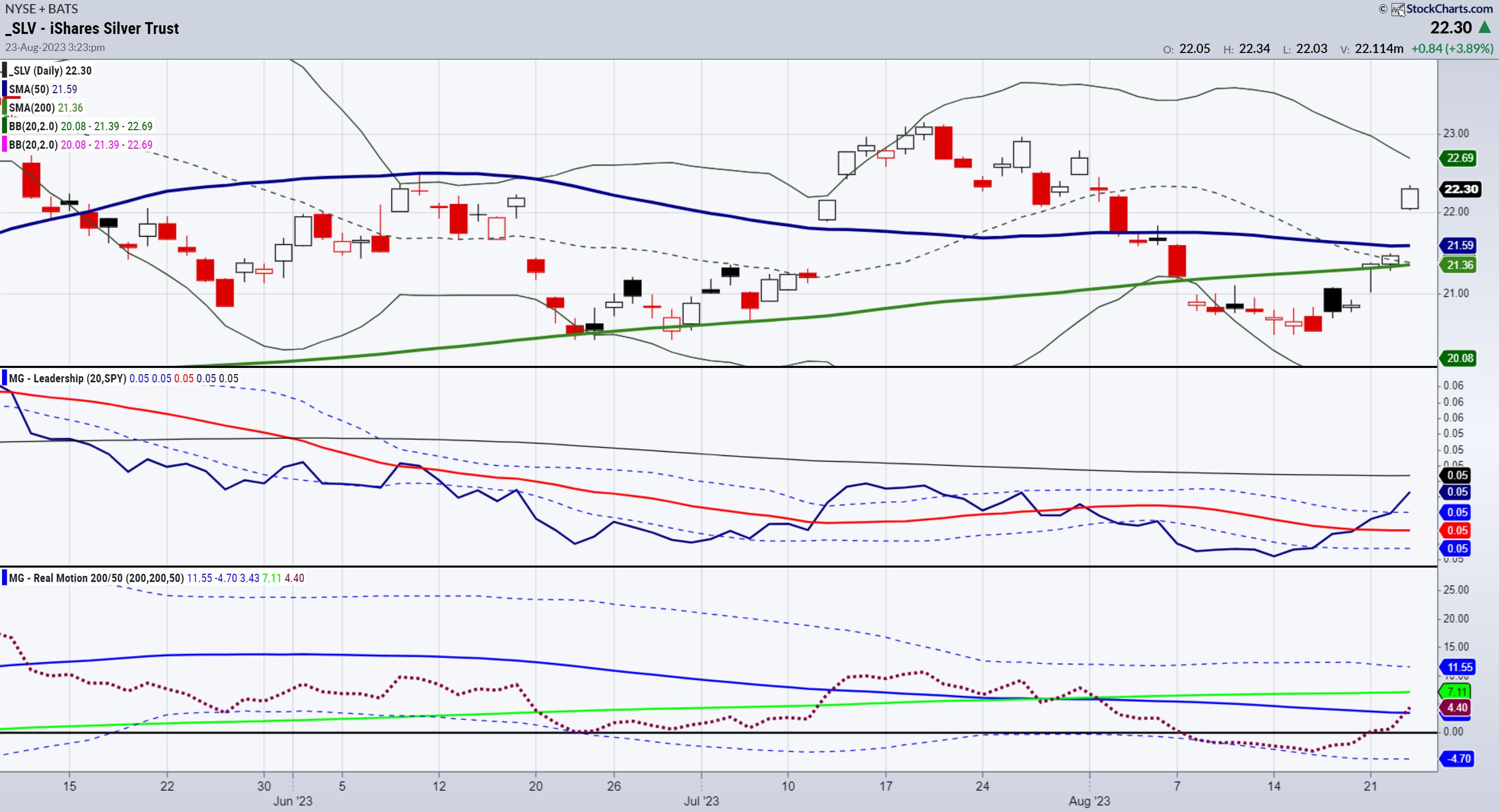 SLV is above the 50-DMA for an improved phase change to bullish. The Real Motion indicator shows improved momentum. Plus, Silver is now outperforming the SPY — inflationary, and perhaps the first sign of risk-off.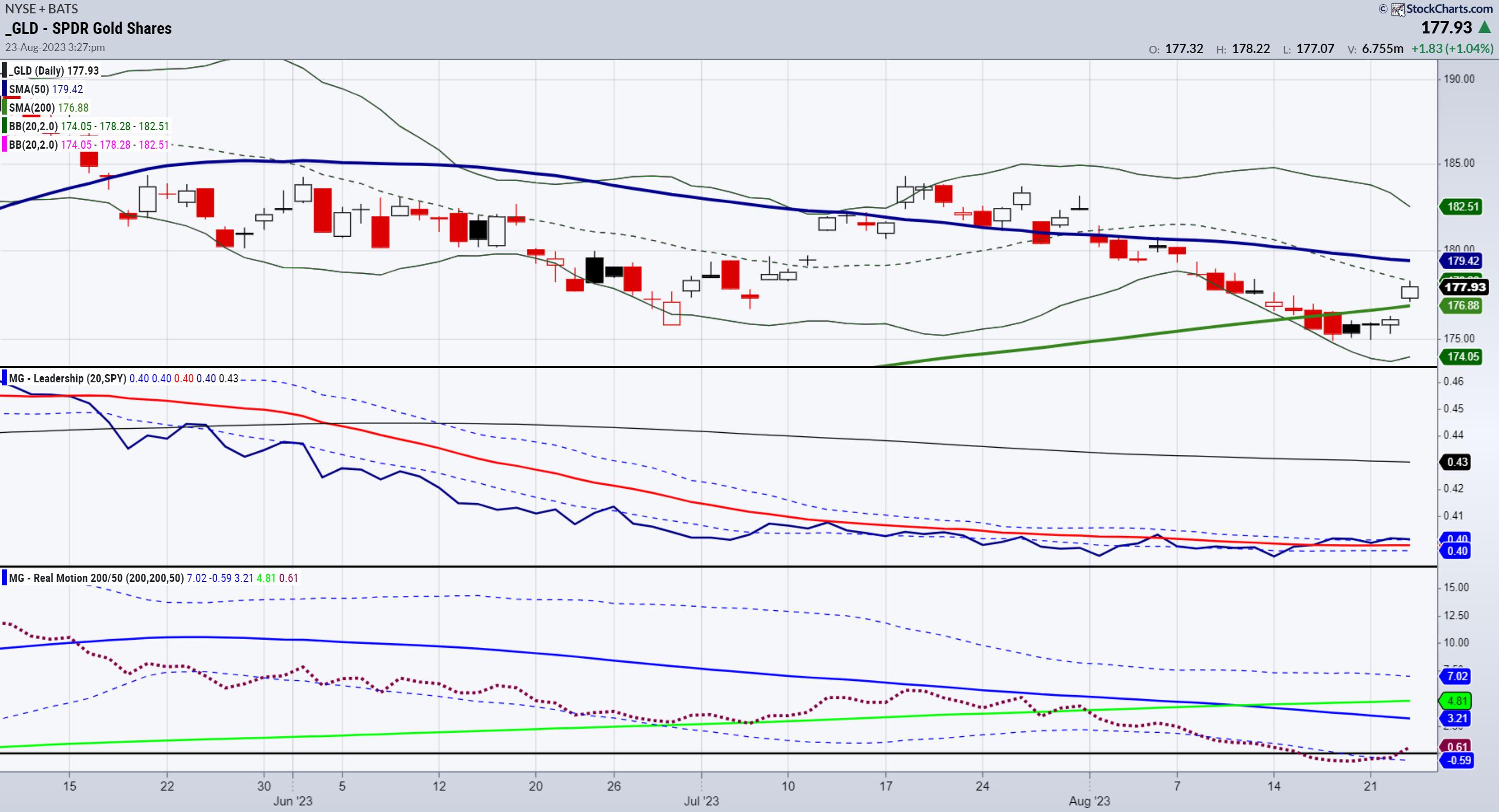 GLD also improved its phase to Accumulation. More noteworthy than silver, it is outperforming the SPY; that is a sign of risk-off, even with the indices rallying today.
On Real Motion, GLD had a mean reversion. Metals look strong. Furthermore, the Dollar looks vulnerable, failing the July calendar range high. TLT looks like a huge potential double bottom in the making, going back to October 2022. And even China got a bid, now having to hold above 26.50 or its July 6-month calendar range low.
---
For more detailed trading information about our blended models, tools and trader education courses, contact Rob Quinn, our Chief Strategy Consultant, to learn more.
If you find it difficult to execute the MarketGauge strategies or would like to explore how we can do it for you, please email Ben Scheibe at Benny@MGAMLLC.com.

"I grew my money tree and so can you!" – Mish Schneider
Get your copy of Plant Your Money Tree: A Guide to Growing Your Wealth and a special bonus here.
Follow Mish on Twitter @marketminute for stock picks and more. Follow Mish on Instagram (mishschneider) for daily morning videos. To see updated media clips, click here.
---
Mish looks at a selection of popular instruments and outlines their possible direction of travel in this appearance on CMC Markets.
Mish talks NVDA and "Trading the Weather" in these two appearances on Business First AM.
Read Mish's commentary on Gold in these two articles from Kitco.
Mish and Nicole discuss where to park your money, barring any watershed event, in this video from Schwab Network.
On the Friday, August 18 edition of StockCharts TV's Your Daily Five, Mish covers bonds, the dollar, risk-off indications and several key commodities with actionable levels to consider.
Mish joins Maggie Lake of Real Vision to discuss what rising bond yields mean for investors across the market landscape, what comes next for stocks and commodities, and why she is taking profits here in the growth and AI stocks.
Mish shows why January and now the July reset worked in this appearance on Business First AM.
Mish discusses Alibaba's stock price in this appearance on CNBC Asia.
In this guest appearance on David Keller's The Final Bar on StockCharts TV, talks higher rates and why China may deserve a second look for investors.
Mish discusses inflation, bonds, calendar ranges and places to park your money on the Benzinga Morning Prep show.
Mish covers why August is a good time for caution in this appearance on Business First AM.
Mish and Jared go over oil and what might happen with small caps and regional banks in this appearance on Yahoo! Finance.
---
Coming Up:
August 24: Mario Nawfal Spaces hosted by Dr. Danish & Live Coaching with Mish
August 28: Chuck Jaffe, Money Show & Guest host on The Final Bar, StockCharts TV
September 7: Singapore Breakfast Radio, 89.3 FM
September 12: BNN Bloomberg & Charting Forward, StockCharts TV
September 13: Investing with IBD podcast
October 29-31: The Money Show
---
ETF Summary
S&P 500 (SPY): 440 now back to pivotal.
Russell 2000 (IWM): Popped off the key support. 185 pivotal.
Dow (DIA): Will watch to see if it can back over 347.
Nasdaq (QQQ): 363 back to key support.
Regional banks (KRE): Still needs to get back over 44 to be convincing.
Semiconductors (SMH): 150 back to pivotal.
Transportation (IYT): 239 still support to hold with 252 biggest overhead resistance.
Biotechnology (IBB): Compression between 124-130.
Retail (XRT): 62.80 the July 6-month calendar range low that failed yesterday, saw a return above today.
Mish Schneider
MarketGauge.com
Director of Trading Research and Education