The markets started the week on a strong note with a rally, which was boosted by the release of dovish remarks from the Federal Reserve's last meeting. A stronger-than-expected CPI report sparked an increase in interest rates, however, which pushed the markets lower. The selling picked up on Friday, with the Nasdaq losing 1.2% in a move that reversed its recent uptrend.
Large-cap growth stocks were hit the hardest, while small-cap stocks also took a step back with a pullback that puts these stocks back to their lows for the year. Seasonality is expected to improve next week; however, earnings season is due to pick up as well. If last week's earnings reports among big banks are any indication, we may be in for a tough ride.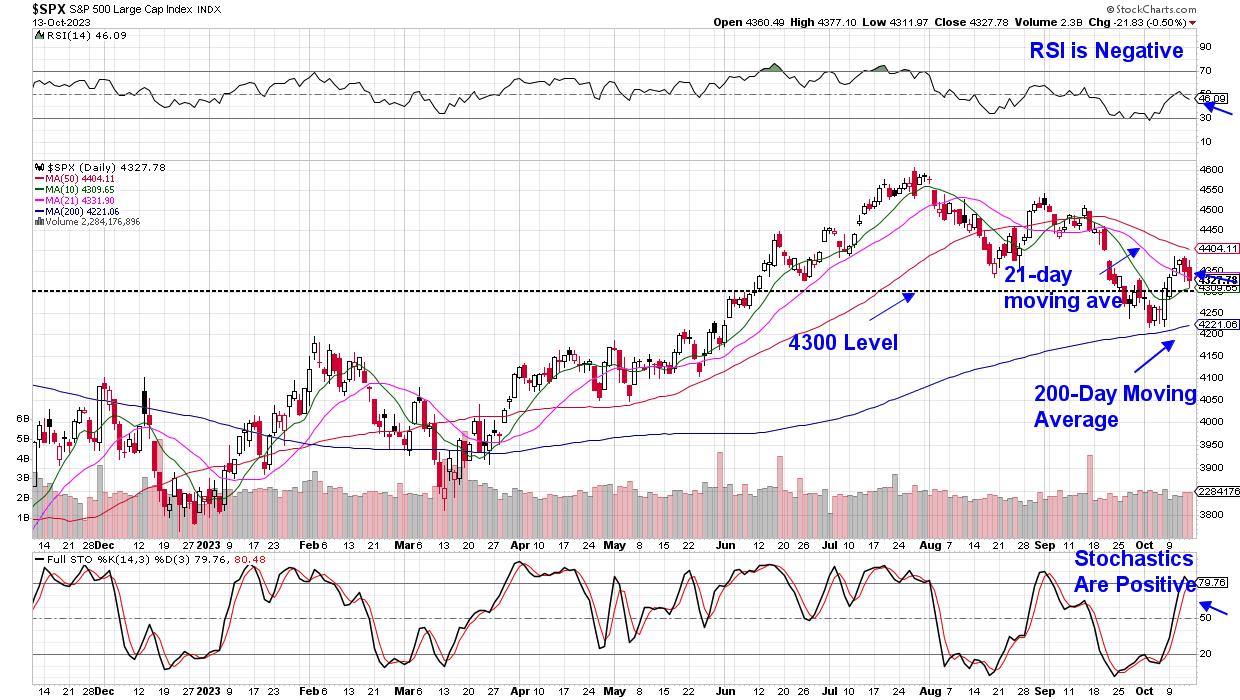 DAILY CHART OF S&P 500 INDEX
The Technology sector remains in an uptrend, however, as do most of the Magnificent Seven stocks, which led the markets higher earlier this year. At this time, the S&P 500 and Nasdaq need to regain their 50-day moving averages amid a period of improving breadth in order for investor confidence to resume. In the meantime, you'll want to put together a watchlist so that you'll be prepared for the new uptrend. Be sure and focus on stocks that are holding up well, as these relative outperformers will often go on to lead once market pressures lift.
Should we see further deterioration, you'll want to pay attention to key areas of support, such as the 4300 level on the S&P 500 chart above. A break below this level will put the 200-day moving average into focus and a close below this key moving average would be quite negative for the markets. Investors will also want to pay close attention to other metrics, such as interest rates, as well as investors response to earnings reports. Both items are highly impactful to price action in the markets.
At this time, we're in a wait-and-see period for the markets, which now have a negative bias. If you'd like to be alerted to any shifts in my market outlook, be sure and take advantage of my 4-week trial at a nominal fee. My twice-weekly MEM Edge Report has been helping investors navigate these tricky periods this year, and you'll want to make sure you're in the correct stocks once these markets turn. Be sure and use this link here!
Warmly,
Mary Ellen McGonagle
Editor, MEM Edge Report