The U.S. economy grew at a 4.9% annualized rate in the third quarter that was fueled mainly by consumer spending as Americans poured their disposable income into vacations, dining out and online shopping. The pace of growth was the fastest since late 2021 and was made possible by slowing inflation and a strong jobs market. According to Fed data, there's been an increase in wealth since Covid with the median net worth climbing 37% from early 2020 into the beginning of this year which in turn, has fueled higher consumption levels.
Not all areas are benefitting from the increase in consumer spending however, as many discretionary related companies have been under selling pressure amid a slowdown in sales. This has kept the Consumer Discretionary sector in a confirmed downtrend, as only 12% of stocks are trading above their key 50-day moving average. There are bright spots however, with select names in the Restaurant, Travel-Related and Apparel industries in confirmed uptrends due to product demand.
While the stocks highlighted below have bullish charts amid a strong growth backdrop, we would not be a buyer given the negative price action in the broader markets. Instead, safekeep these names to your Watch List as historically, stocks that can withstand downward pressure in the broader markets will go on to become leadership names once market pressures subside. This is especially true if the company has a positive earnings and sales growth outlook.
DAILY CHART OF DECKERS BRAND (DECK)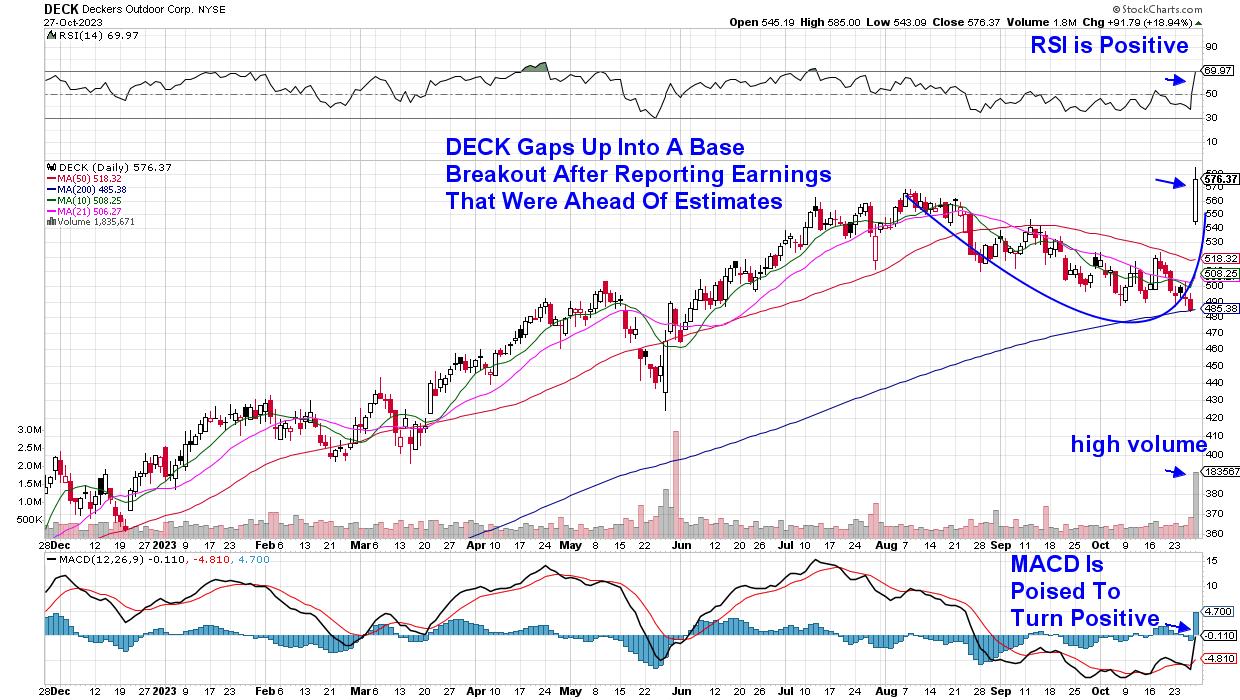 Above is Deckers Brands (DECK), maker of popular footwear products. The company just reported record earnings led by their running shoe Hoka which saw sales grow by 27% in their most recent quarter. Revenue rose even more in their UGG boot division which gained 28% over the same quarter last year. In addition, management guided growth prospects higher going forward.
In response, investor's bid DECK up 19% in a move that pushed the stock out of a base on heavy volume. With the RSI in positive territory and the MACD poised to turn positive, this price action puts the stock on a path to trade higher – particularly after the markets turn positive.
DAILY CHART OF TRAVELZOO (TZOO)
Travelzoo was another big winner this week after the company reported a 30% year-over-year increase in revenue with most of the increase coming from their European business segment. In addition, the company saw an increase in members who are presented with travel experiences at a reduced price. 
TZOO entered a new uptrend after Wednesday's continuation rally pushed the stock above its 200-day moving average on heavy volume. The RSI and MACD were pushed into positive territory as well. The stock has a history of posting significant gains after strong earnings such as late April of this year.
DAILY CHART OF CHIPOTLE (CMG)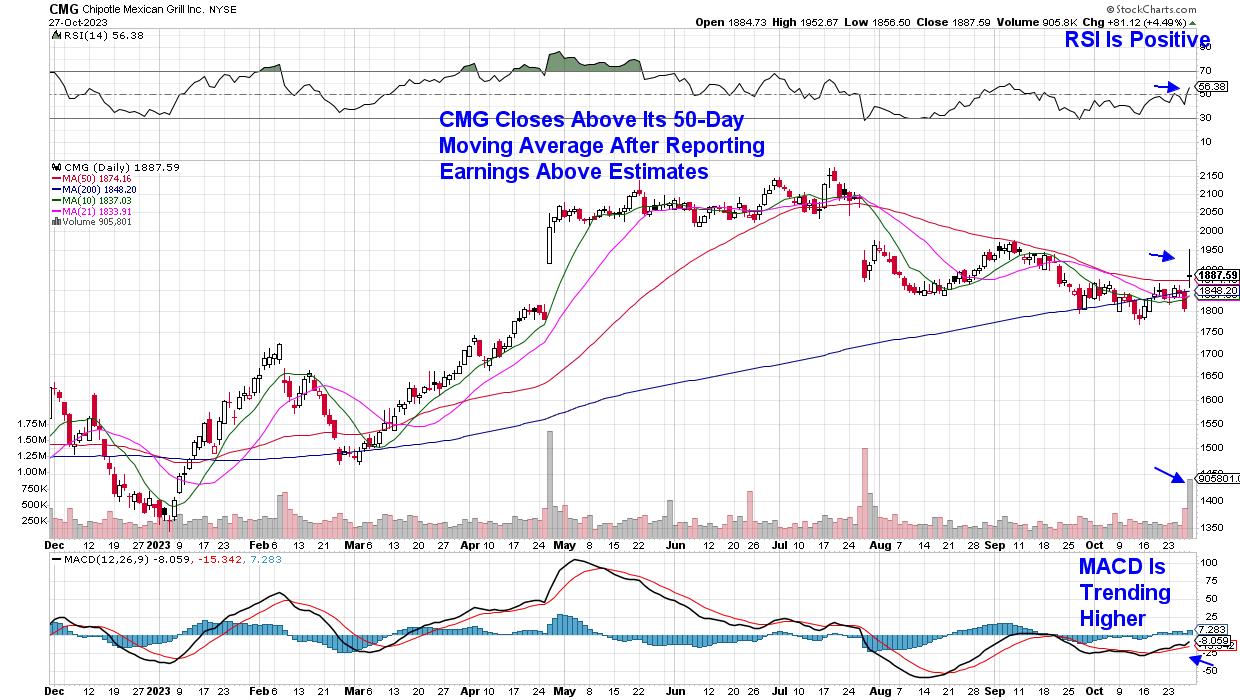 Restaurant company Chipotle (CMG) reported earnings today that were 22% higher than last year despite raising prices amid increased costs for the company. The results came in above estimates which pushed the stock into an uptrend after a close above its 50-day moving average. While the stock fizzled into the close due to management's conservative guidance for growth into next quarter, CMG now has a positive RSI with the MACD trending upward.  A sustained move above this key moving average would bolster the possibility of a move higher however, we'd wait for a new uptrend in the broader markets before initiating a position.
As cited earlier, the broader markets are in a confirmed downtrend with both the S&P 500 and Nasdaq below their key 200-day moving average following heavy volume selling which points to distribution. The weekly charts of these Indexes are troubling as well, which I'll review in my Sunday MEM Edge Report while highlighting what needs to take place before a new uptrend can emerge. To be kept on top of the market's condition as well as be alerted to additional stocks that are Watch List worthy, use this link here to trial my twice weekly report for a nominal fee.
Warmly,
Mary Ellen McGonagle, President MEM Investment Research